FOOD SERVICE
A magical blend of flavors, an irresistible mix of meat and seafood dishes.
You are seated at the Restaurant of Hotel Capizzo in Forio, where the flavors of Mediterranean cuisine are blended with a touch of modernity and creativity, resulting in a unique combination.
Here, the Chef has an important task: bringing the flavors of Ischia, its landscapes, smells and scents straight to the dishes served on your the table.
The skilled hands of the Chef turn local meat, fish and produce into authentic little delights.
And every dish is created with farm to table ingredients.
Vegetables come from our small garden or trusted farmers, the catch of the day is the fresh fish brought to us by the fishermen every morning.

Any bite you savor is a journey through the culinary treasures of this wonderful island.
You can eat in our indoor dining room with a view or on the outdoor terrace with an à la carte menu.
All dishes tell a story, a connection to tradition and a passion for the culinary arts.
Vegetarian, vegan and gluten free menus are also available.
The view of the picturesque Bay of Citara and the scents of the blooming garden are the perfect backdrop to all this.
In addition to this, the authentic flavors of first-rate products will convey unique emotions during your vacation
Mealtime will become an exciting moment that you will not be able to do without.

This is the in-house restaurant, designed for those who want half-board basis for the duration of their stay. Even from here you can admire the sea and the Bay of Citara.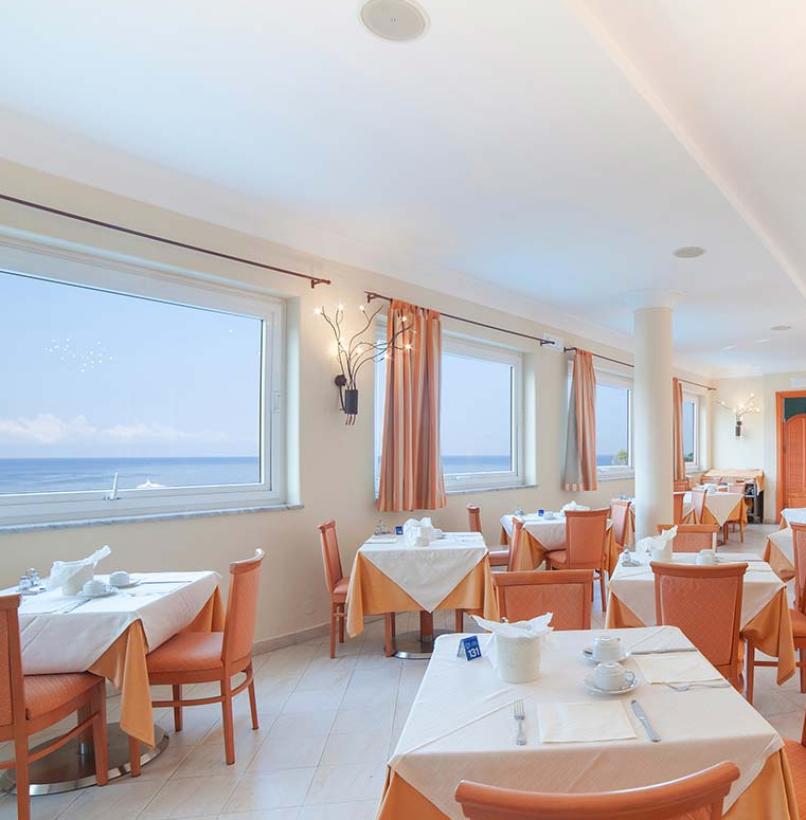 La Corinzia Restaurant

Our Restaurant on the Terrace with à la carte menu is the one for you, if you want to enjoy our dishes with a panoramic view. Seafood and meat specialties, or delicious dishes if you're in the mood for a quick dinner.

A bevy of tasty treats to start your day in Ischia off right. You'll find little sweet treats made by the chef and also fresh produce from the island, with savory options as well. A gluten free corner is also available.

To treat yourself to delicious breaks and cool drinks at any time of day, even poolside or on the panoramic terrace.